Released four high end UDK tutorial videos!
I have released 4 high end in-depth UDK video tutorials, alongside the launch of my own store!
Worth 16 hours of all my UE3 knowledge on the topics of lighting, mobile development, and asset development.
Features
Around 4 hour long, universal (MP4, standard codec, fit for all computers/mobile devices) video tutorials.
In-depth, very detailed and thorough.
I do not just explain how to do things, I also show how they were applied in real life examples: The Ball, Unmechanical, and Rekoil.
Everything I learned from working in UE3 for six years, and having worked on/for 11 Unreal Engine 3/UDK commercial games/clients.
I am supporting standard European bank payments for people in the EU, as well as international credit card payments.
And last but not least, unique to my videos are the Assignments and Certificates!

Included in every video is an assignment. These all new assignment levels or models are based on what was explained in the video, and are meant for you to demonstrate what you've learned in the video.

Upon completion of the assignment, you can send it back to me and I will verify that you've done everything correctly. If all was done correctly, I will issue you a Certificate of Completion, as proof that in my opinion, you've shown sound understanding of this subject in UDK.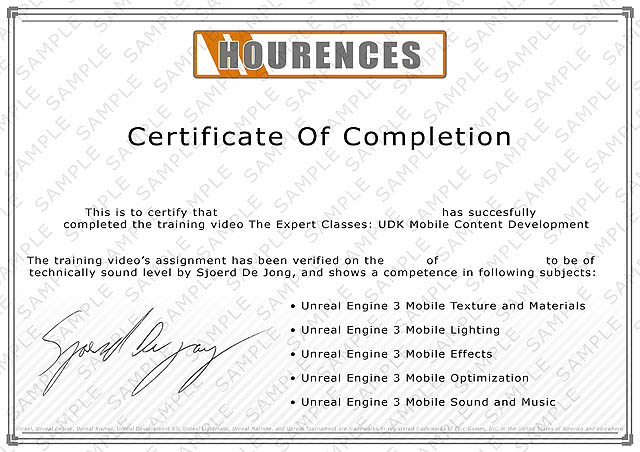 I am aware it is late into this generation/engine cycle, but I have my reasons to do this now. For one I did not want to let all the knowledge that I've gained working with UE3 for so many years, to get lost. I wanted to store it somehow, and make sure that other people are able to make use of it as well, as I am moving on. For example for mobile development in particular, a lot of the knowledge required to pull off a mobile Unreal Engine 3 game simply cannot be found anywhere. I learned everything by doing, as usual, and want to share that with everyone now. Late into the cycle also means that I have more knowledge to share, more examples to show, more experience to share.
Check out the Store and Video FAQs for additional information on how my store works, and what you can expect of the videos.
Thanks for your support everyone, have fun!